Page 4 - Messages of Obsession (Karen Fox) : Flip It & Read It
P. 4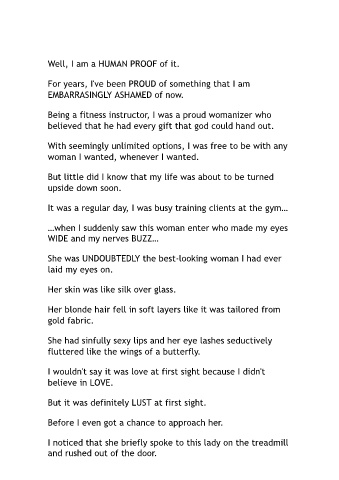 Well, I am a HUMAN PROOF of it.


                  For years, I've been PROUD of something that I am

                  EMBARRASINGLY ASHAMED of now.


                  Being a fitness instructor, I was a proud womanizer who
                  believed that he had every gift that god could hand out.



                  With seemingly unlimited options, I was free to be with any
                  woman I wanted, whenever I wanted.



                  But little did I know that my life was about to be turned
                  upside down soon.


                  It was a regular day, I was busy training clients at the gym…



                  …when I suddenly saw this woman enter who made my eyes
                  WIDE and my nerves BUZZ…



                  She was UNDOUBTEDLY the best-looking woman I had ever
                  laid my eyes on.


                  Her skin was like silk over glass.



                  Her blonde hair fell in soft layers like it was tailored from
                  gold fabric.



                  She had sinfully sexy lips and her eye lashes seductively
                  fluttered like the wings of a butterfly.


                  I wouldn't say it was love at first sight because I didn't

                  believe in LOVE.


                  But it was definitely LUST at first sight.



                  Before I even got a chance to approach her.


                  I noticed that she briefly spoke to this lady on the treadmill
                  and rushed out of the door.