Page 13 - Messages of Obsession (Karen Fox) : Flip It & Read It
P. 13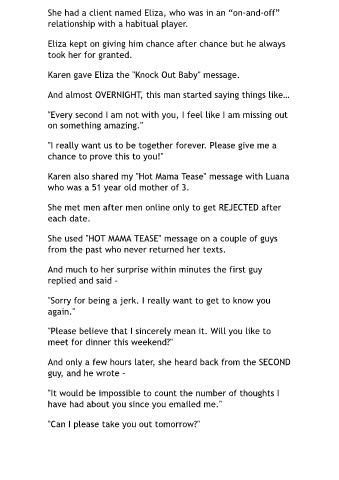 She had a client named Eliza, who was in an "on-and-off"
                  relationship with a habitual player.


                  Eliza kept on giving him chance after chance but he always

                  took her for granted.


                  Karen gave Eliza the "Knock Out Baby" message.



                  And almost OVERNIGHT, this man started saying things like…


                  "Every second I am not with you, I feel like I am missing out
                  on something amazing."



                  "I really want us to be together forever. Please give me a
                  chance to prove this to you!"



                  Karen also shared my "Hot Mama Tease" message with Luana
                  who was a 51 year old mother of 3.


                  She met men after men online only to get REJECTED after

                  each date.


                  She used "HOT MAMA TEASE" message on a couple of guys

                  from the past who never returned her texts.


                  And much to her surprise within minutes the first guy
                  replied and said -



                  "Sorry for being a jerk. I really want to get to know you
                  again."


                  "Please believe that I sincerely mean it. Will you like to

                  meet for dinner this weekend?"


                  And only a few hours later, she heard back from the SECOND

                  guy, and he wrote -


                  "It would be impossible to count the number of thoughts I
                  have had about you since you emailed me."



                  "Can I please take you out tomorrow?"